High Earning Landing Pages are Avaialble!
<< All posts
17 August 2018 14:23:28
We have released and tested some new high earning landing pages. They increase sales conversion up to 145%.
Landing page is animated map showing LOCATION of the user on the map and the warning that user can be tracked by his ISP or government agencies.
A new map langing page extremely boosts sales - accoring to several tests made with top affiliates. See how it looks (example)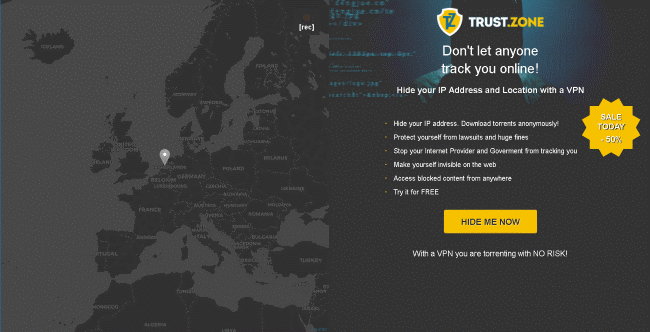 No need to modify any code on your website. Just let us know - we activate a new landing page for your account for free. All your users will be redirected to new landing page automatically!
If you need to activate landing page for your account - just contact us with a request.
Tags:
money
,
landing
,
landing pages
,
trust.zone
,
vpn
Trust.Zone celebrates its 10th Anniversary: Share 5-Year Plan - Earn More!
Trust.Zone Website and App are Now Avaialble in French and Turkish - Increase Your Sales!
Latest news and updates
Trust.Zone celebrates its 10th Anniversary: Share 5-Year Plan - Earn More!
It's our 10th birthday, so we prepared an EXCLUSIVE DEAL for our customers and affiliates.
Yes, you read that right.
While most people get gifts on their birthday, we're preparing the special deals to our users who kick off their journey with us in our second decade.
We start selling unique 5-Year plan for just $99. 

Hurry! Boost your sales till we celebrate our anniversary read more >>
22 April 2022
New Landing Pages Available! Increase Your Conversion Rate by up to 225%
Our team has successfully tested several new landing pages. According to our tests, you can improve your conversion rate up to 225% while using our new promo landing pages. We can modify texts on the landing pages upon your request. It's free of charge.   read more >>
18 April 2022
Need personal promo codes? Leave a request!
Need personal PROMO CODES for your readers? Just let us know and we send you exclusive 30% off promo codes and discount coupons. read more >>
16 April 2022